Zero Delay LED USB Encoder
Zero USB joysticks & buttons encoder for PC, PS3 and Raspberry Pi.

Recommanded for all your MAME projects.

Terminal Connections:2.8mm / 4.8mm

MOQ:10pcs
$8.00
Description Kits
Zero USB joysticks & buttons encoder for PC, PS3 and Raspberry Pi, with 2.8 mm terminal connections.
Recommanded for all your MAME projects.
This controller board is simply plug'n'play and will be recognised as a game controller and can be easily configured.
This arcade controller board supports 1 x joystick & 12 x arcade buttons.

Terminal Connections:2.8mm / 4.8mm

Features:
· USB cable: 180 cm long
· 2 pins button cable: 21 cm long
· 5 pins joystick cable: 16 cm long
· Dimensions: 8,5 cm x 3,5 cm x 1 cm
Content:
· 1 x Zero Delay USB Encoder
· 1 x USB cable
· 1 x 5 pins joystick's cable
· 12 x 2 pins cables
· 1 x LED cable for 10 led button (5V)
Arcade LED Buttons and Joystick DIY Arcade Mame Kit for Windows & Raspberry PI
Price:US$39.95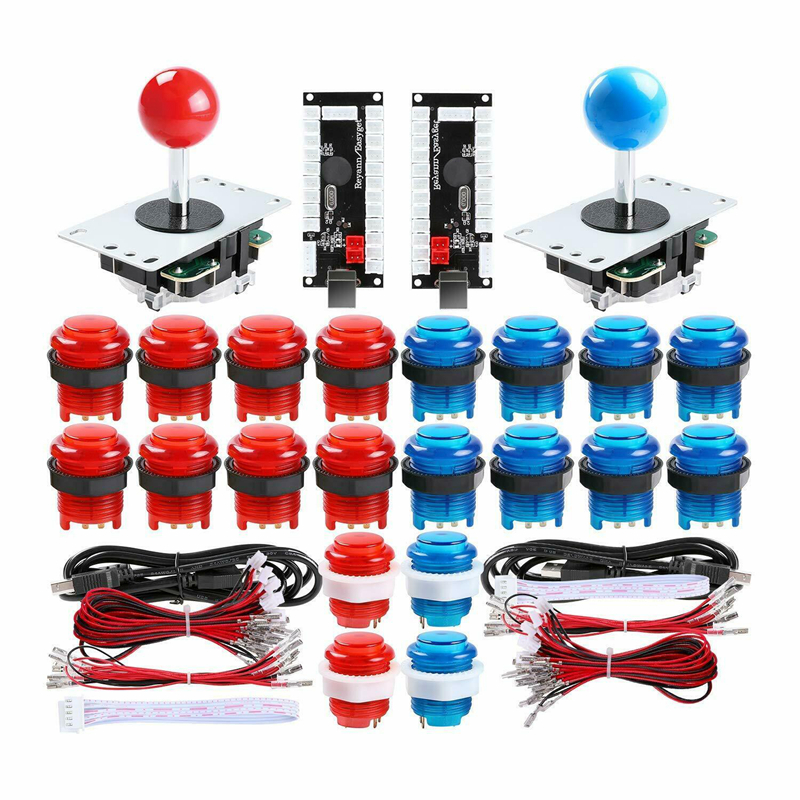 2 Player led Arcade Buttons and joysticks DIY kit 2X joysticks + 20x led Arcade Buttons Game Controller kit for MAME and Raspberry Pi - Red + Blue Color.
Build your own arcade retro games cabinet, enjoy the fun of home game console. It's also a perfect gift for the kids.
* Each Encoder have its own USB Cable to make sure that Multiplayer can play the games in the same condition!
* The Joystick is a 8 way professional joystick!
* The buttons are 5V LED Illuminated push buttons with build-in Microswitches inside.
* The buttons default as lighted all the time.
* Joystick and small button hole diameter: 24mm, large button hole diameter: 28-30mm
* Above all,This kits is the a perfect kit for you to build a 2 player USB MAME Cabinet! We will put a install description inside the package.So there is no worry about the DIY Project!

Package Included:
2x Zero Delay LED USB Encoder
2x USB Cable
2x 5Pin wires for Joystick
20x 2Pin wires for LED Push Buttons
2x 10 terminal 2pin wires for led lamp
4x 24mm Ring-Fixing LED Push Buttons as start buttons (2x Red, 2x Blue)
16x 30mm Ring-Fixing LED Push Buttons as fight buttons (8x Red, 8x Blue)
2x 5Pin 8 way joystick (1x Red, 1x Blue)
1x Install Description